Parenting Children Overwhelming?
Here's a great new way to make parenting children easier for YOU!
View our brief, beautiful Wisie videos with your children to solve / avoid behavior problems.
… succinct, heartwarming videos that support child development, solve behavior problems
and enrich parent-child quality time.
Click on
WisieKidsPlace
TM
for a demonstration of the entire
Children's Experience we have
designed for this membership.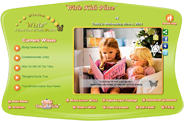 Wisie videos for children quotes:
Wisies:
..." inspire my daughter to succeed."
..." nurture my son's caring nature."
..." help my grandchild manage emotion."
Here's positive parenting help for father & mother.
Poems for great attitudes (embedded in some videos) children love to remember!
Make parenting children easier, more successful and more fun!
Make Wisie Wisdom Videos your partner in parenting TODAY.
Watch
Children's Wisies
WITH your child,
delivered
every week
to your computer screen
Wisies are the perfect tools to teach your children the values and character they need in order to be successful, and carry much more impact than simple text of children quotes or mother poems.
These power-packed video messages are crafted to offer YOU parenting tips in a fun, easy, cost effective, time concise solution.
By experiencing the Wisies together with your child
Your Child will:
Learn family values & skills
Gain self esteem
Develop empathy/sympathy
Build character
Elevate learning & school performance
Strengthen emotional intelligence
Enhance relational skills
Strengthen your child's development
Learn to appreciate and value parental love
Have fun
You will:
Improve your approach toward parenting children
Decrease behavior problems in your child
Share your values easily
Strengthen your parent children relationship
Develop great communication skills
Accomplish more in less time
Spend quality time with your child
Enhance relational skills
Enhance your family life
Improve your parenting skills
Have fun
Watch this video to see a sample Parenting Wisie
More Parenting Wisies
Parenting your child is now easier and more pleasurable
You will enjoy viewing each poignant Wisie video message with your child, as well as discussing the concepts and values expressed in them.
Watching Wisies together with your children will definitely improve the parent children relationship.